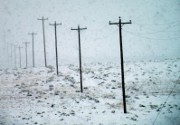 The Register writes:
The Netherlands have the fastest Internet connections in Europe according to a State of the Internet report by Akamai, with more than 68 per cent of Dutch broadband lines clocking in at 5Mbit/s or more.

[…]

The fastest Internet in the world is found in Japan, with 59 Japanese cities filling out the Akamai list of the 100 cities with the fastest broadband. Brno in the Czech Republic has the fastest connection speeds of any city in Europe at an average of 8.3Mbit/s. No UK cities make the top 100.
Global average connection speed grew 43% in the last year. The Netherlands is also the country with the highest level of broadband adoption in the world, with 68% of the households having a fast connection.
In case you've never heard of them, Akamai are the people who used to host large files for large companies until Amazon shouldered its way into the market. (I am sure they're still doing fine.) In other words, they know a thing or two about connectivity.
See also: Gigabit internet connection to the houseboat
(Photo by Joe Frisino, some rights reserved)