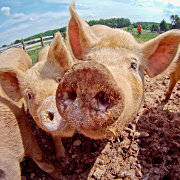 The Lekker Dier foundation, a farm animal welfare group, announced last Thursday that the best mud pit for pigs in 2012 is the one in the farmyard of the Van Leeuwen family in Buren.
"This pit is large, nice and deep, and muddy. Perfect for a lovely cool down in this warm weather."
This year marked the eighth time the trophee was awarded. Only one percent of the 12 million pigs in the Netherlands have access to mud baths. Pigs use mud baths to regulate their temperature and to keep their skin clean from parasites.
Buren is a village near Tiel, in the largest province of the Netherlands, Gelderland.
Check the Stad Tiel article for some photos of happy (and even smiling) pigs.
(Photo of pigs in the USA by US Department of Agriculture / Lance Cheung, and therefore in the public domain)