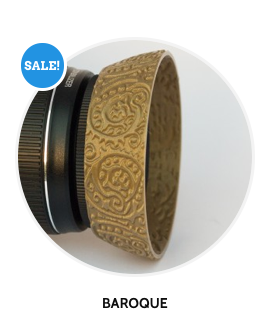 Kapsones, the Dutch word for 'putting on airs', is a colourful line of custom lens hoods — a bit like covers for your smartphone — recently launched in design-friendly Eindhoven.
"There are four styles to choose from: Baroque (an old fashioned look), Knitted (self explanatory), Stealth (sharp and angled), and Street (looks like a cobblestone road). Each design comes in several colours that you can choose from when ordering."
Since it is a start-up, the lineup of compatible lenses isn't very extensive yet: Canon 28-80, 28-90, 18-55 mm IS, and 18-35 mm IS II. The price starts at 20 euro.
Check out their promotional video:
Kapsones from Van Alles Wat Ontwerp on Vimeo.
(Link and image: petapixel.com)