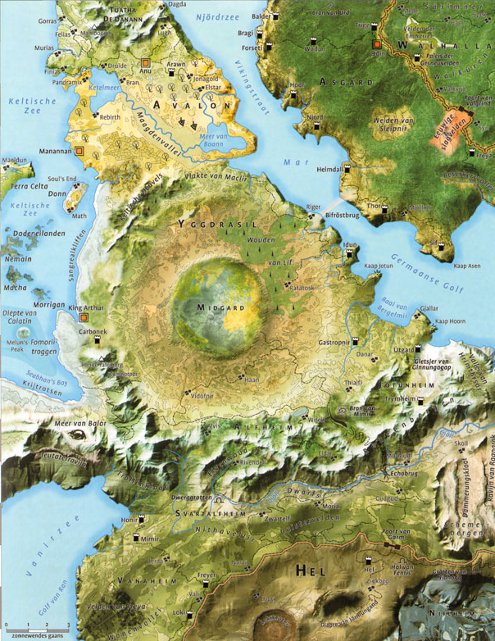 Last year Guido Derksen, Martin van Mousch and Jop Mijwaard published a book about how different cultures and religions view the hereafter.
Rather than limiting themselves to a dry summing up of various theories, the authors actually made an illustrated atlas: eighteen drop dead gorgeous maps! There are maps of Dante's hell, the Egyptian Duat, the Islamic, Jewish and Hindu heavens, and many more (shown here: Valhalla). The book drew positive reviews from both the religious and secular press.
Reformatorisch Dagblad (protestant) wrote:
The chapter about the medieaval folk tale of Cockaigne is a welcome change of tone, being comical in nature. The map contains a Tokkelroom Dale with a town called Advocaat. We also find a mountain range called Top Fermenting with a peak called Two Fingers. […] In conclusion it is an original, fascinating and informative book.
To some people this may be a confrontational and sobering book, but it thought it was lovely. A piece of folkloric religion becomes pure literature again—back to the realm of Tolkien.
And VPRO radio: "Real maps […], so you'll know exactly where you need to be."
Moors has several samples of the maps, as does the authors' blog, which discusses (in Dutch) how the maps were made.
De Geïllustreerde Atlas van het Hiernamaals, by Guido Derksen, Martin van Mousch and Jop Mijwaard, Nieuw Amsterdan, 2010.