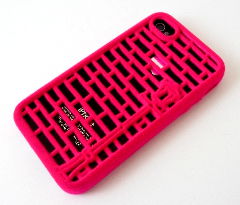 Kees is a Dutch online company that lets you customize and 3D print iPhone cases based on a large number of presets.
You can even add your own lettering to the sides.
The cases cost around 40 euro, and take about 3 weeks to deliver.
The company is an initiative of brothers Jonas and Daaf Samson. The company name is a common Dutch given name (short for Cornelis), and is pronounced 'case'. Unfortunately, you don't seem to be able to opt out of the rather large company logo that is also printed on the side.
Anyway, the customization process is really simple, so I suggest you check it out to see what a Kees is all about.
(Link: Bright, Photo: Kees)
Tags: 3D printing, cases, iPhones, phone cases