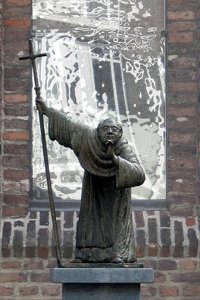 NRC reports that the Roman Catholic church has been castrating minors in the 1950s.
In one case the victim was a boy who had been sexually abused by a priest in a Roman Catholic boarding school. The paper says there are indications that the church castrated dozens of more boys. The church had hoped to 'cure' the boys from 'homosexual behaviour'.
In 2010 the church appointed a committee led by former education minister Wim Deetman to study sexual abuse of minors within the church. In its report, the committee somehow failed to make any mention of the castration cases, even though it knew about it.
The current right-wing government has always blocked a parliamentary enquiry into widespread sexual abuse by the Catholic church. Coalition partners VVD, CDA and PVV claim that this is because an enquiry would be of no use to the victims.
According to the optimistic Deetman report, the rape machine that is the Catholic church made tens of thousands of victims among children in the Netherlands alone between 1945 and 1985.
Last week Prime Minister Mark Rutte (VVD) cheerfully reported at a congress for fundamentalist Christian youths—it is still anybody's guess what he was doing there—that for him as a liberal, judeo-christian principles are very important. Somehow I doubt this government will do much to stop the criminal practices of white religions.
Tags: Catholic church, Catholicism, child rapists, Mark Rutte