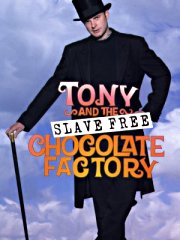 Last year journalist Teun van de Keuken failed to get convicted for complicity in slavery, as we reported back then. But now Van de Keuken's campaign has led to at least one indictment, although probably not of the kind he was looking for: the Dutch Media Authority (Commissariaat voor de Media) has fined his broadcaster for illegal product placement.
Van de Keuken set out to raise awareness for the fact that the people harvesting cocoa, the raw material of which chocolate is made, are basically slaves. He did this by turning himself in after eating a bar of chocolate, making him complicit of slavery. The case was dismissed because the court held he was not an aggrieved party. Van de Keuken also produced his own brand of slave-free chocolate, Tony's Chocolonely, which he talked about on his show.
Product placement is illegal on Dutch television, and the Dutch Media Authority is the watchdog that tries to ferret out any instances of it. It does not matter whether the placed products are for a good cause, but the fact that petty issues trump major ones must be bitter for those who want to see new forms of slavery banned. The DMA had some pity though, and in recognition of "this unique and experimental program" reduced the fine to EUR 20,000, the lowest in its 'range'.
(Via print magazine De Journalist. See also Molblog (Dutch))