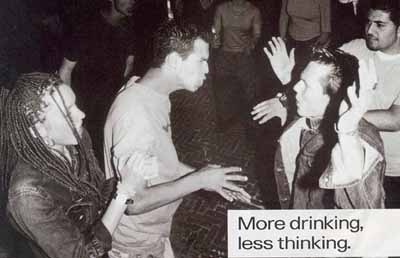 In his recently published article entitled 'Taking the Conservative Protestant thesis across the Atlantic' published in the British Journal of Criminology, Don Weenink of the Faculty of Social and Behavioural Sciences at the University of Amsterdam claims that 'Conservative Protestant rural youth are more often involved in violent crimes than their counterparts in urban areas, who also use less violence than average'. Less violence is possibly correlated with a total lack of nightlife, which in turn could also explain all the drinking and drugs.
Weenink collected data from 8000 Dutch young people aged 15 to 30. According to him, drinking alcohol is often seen as harmless pleasure by parents and young people in rural areas, whereas in urban areas it is often associate alcohol use with antisocial behaviour. As well, Protestant villages in the Dutch Bible belt have young people taking matters into their own hands in conflict situations. We only know the Bible Belt as a place where quacks suggest grinding oysters shells as medicine and children suffer and even die of measles for 'religious reasons'.
Religious places like Urk and Volendam, also fishing villages, are often pointed out by many as full of bored kids that drink until they drop and take lots of drugs, usually cocaine. In 2012 quaint Volendam has more people snorting coke than cities like Paris, London and Milan. According to a 2003 Dutch television documentary 'Fish, drugs and rock n' roll', the youth become drug addicts and alcoholics at a very young age and their religious leaders either thump Bibles or suggest they spend Saturdays playing board games with their parents. The documentary tells of Urk youth going to church to take and deal drugs.
(Link: phys.org, image an early 2000 Dunglish advert that wanted to say 'if you drink more, you will think less, but managed to say the exact opposite)