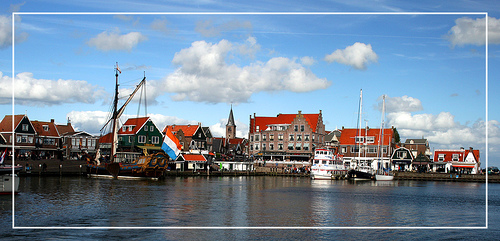 Recently I was in Amsterdam's famous Jordaan neighbourhood and decided to pop into an old brown café to have a drink. One of the bar staff was new, and she told me she was from Volendam, which only has 22,000 or so residents. Her comment also brought with it an inevitable discussion about 'palingpop' ('eel pop', typically Volendam music sung by the likes of Jantje Smit and Nick & Simon, which she's not a fan of) and hereditary diseases.
Referred to as the 'Volendam sickness' and known more properly as 'Volendam neurodegenerative disease', this one village is know for "Pontocerebellar hypoplasia type 2 (PCH-2), a heterogeneous group of rare neurodegenerative disorders caused by genetic mutations and characterised by progressive atrophy of various parts of the brain such as the cerebellum or brainstem (particularly the pons) for which there is no cure". Any child born with this disease will die before they reach 10. According to Dutch wikipedia, one out of every seven residents of Volendam is a carrier, and the chance of PCH-2 is one out of 250 births, while for the Dutch population it is one out of 180,000.
The bar woman talked about it being standard fare for her family members and their partners who wanted to have children to be tested for diseases, as the chances of being a carrier is high. Research has shown that European patients who contract the disease are all related 10 to 12 generations back to the same ancestor, and quick Google search tells me that the entire village of Volendam stem from about seven ancestors. People from Volendam are a very tight tribe, as told by my bar woman who said that when she came to live in Amsterdam it caused quite a stir in her family. And if someone from Volendam does marry an 'outsider', you can bet they will try and push for the new couple to live in Volendam.
Nonetheless, it's a beautiful village full of tourists, and I'm sure it has a lot more stories to tell.