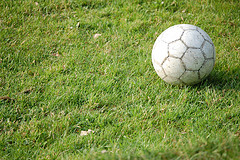 A court in Rotterdam has ruled that a signature on a beer coaster is worth 11,000 euro in a case involving a dispute between a top football player and his club.
The man brought the case to court, claiming he was supposed to be paid for his performance, but the club decided to contest this because the signature on the coaster was from someone who was not authorised to make such a deal. A graphologist was hired to established whether or not the signature was authentic, and it was.
Since the signature checked out, the court felt there was no reason to doubt the intention of the club which must pay the player 11,000 euro in back pay.
Read the court's verdict from december 2018 in Dutch.
(Link: telegraaf.nl, Photo of Football by Bramus, some rights reserved)