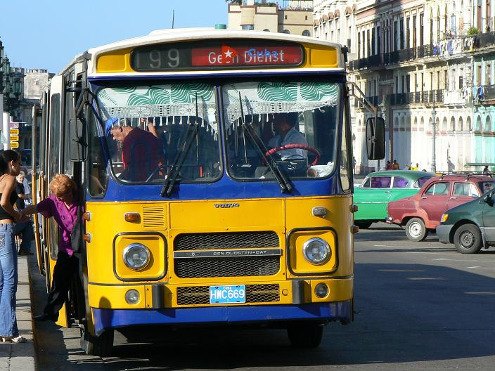 This is what the buses from my childhood look like and yet I've never even been to Cuba.
It appears Cuba buys up old buses from all over the world and doesn't bother to change the signs denoting the line number and destination. This one says: "Geen dienst", i.e. no service. RTVNH spotted the old line 14 bus to Uitgeest (a town north of Amsterdam). Checking the Flickr group Dutch Buses in Cuba is like looking at a small history of Dutch public transport.
Yellow is just the livery of this company, it doesn't denote any specific type of service. The curtain with the sassy fringe seems to be a recent addition though.
See also: NZH timetables using European comics.
(Photo by Paul Arps, some rights reserved)
Tags: buses, Cuba, public transport