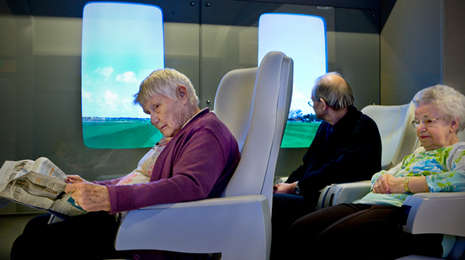 Earlier this year the inmates residents of a nursing home for the elderly called De Bieslandhof in Delft got a virtual train compartment to lounge in. The compartment which consists of a number of seats and screens placed in portrait position was commissioned by the home itself in cooperation with SKOR (Foundation for Art and Public Space). The screens show a Dutch landscape of tree-lined meadows gently rolling by.
Groups of residents can have a cup of tea or coffee in De coupé [the name of the objet d'art, translates as The compartment—Branko] as well as receive a hot meal. Moreover, the work seems to have an added therapeutic value since the more restless residents who used to constantly stand in front of closed doors because they wanted to escape from the nursing home, are now calmly enjoying a few hours in De coupé instead.
And the artists, Lino Hellings and Yvonne Dröge Wendel, document the process (Dutch) in their online diary:
We now have a good idea of what the video should look like. 80 % sky with cumulus clouds and 20 % underexposed landscape, preferably rows of trees. The view should be filmed in landscape mode, then cut in two, and twice recorded vertically. The same image is shown mirrored on the other side.

We discover an old steam train between Hoorn and Medemblik. The windows are perfect, as is the speed. We use old socks filled with coffee beans as a camera stand.
Via Toby Sterling. Photo by SKOR / Gert Jan van Rooij.
Tags: cynicism, dementia, elderly, irony, multimedia, nursing, trains