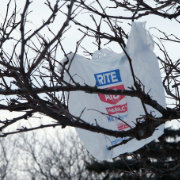 Dutch designer Dave Hakkens has created devices described as 'a solution to plastic pollution' that people can download and build themselves. The series is called Precious Plastic machines, which uses everyday materials and basic tools Hakkens says are available around the world.
Precious Plastic machines include a shredder, extruder, injection moulder and a rotation moulder, which can all be used to turn waste plastic into new products. Hakkens first showed prototype versions at the Design Academy Eindhoven graduation show in 2013, and has spent the last two years refining the designs.
Hakkens wants to deal with the reported 311 million tonnes of plastic waste humans create every year, of which less than 10 per cent is actually recycled. "A lot of things we have are made from plastic. It's used everywhere, but it also ends up everywhere, damaging our planet."
In late 2013 Hakkens partnered up with Motorola in order to create mobile phones to combat electronic waste: not throwing out an entire phone and swapping out a broken component instead.
(Link: www.dezeen.com, Photo by Kate ter Haar, some rights reserved)