Two inventions—a charger in a safe, and a power strip in a book (and a bonus invention)
Two recent products by young Dutch inventors are all about keeping your electronic gadgets well fed.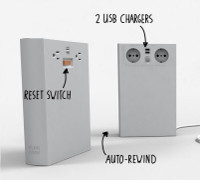 Bright reports about the Plugbook by Dave Hakkens, which is a power strip disguised as a book.
The Plugbook contains two outlets and two USB ports and is available in three colours. Dave is still looking for backers over at Kickstarter. He needs 45,000 USD in pledges before he can start manufacturing Plugbooks. Backers get to co-decide on a fourth colour. When the power-strip-meets-book hits the streets, it should retail at 30 USD.
Meanwhile, business news site Z24 reported on a cross between a safe and a charger, the ChargeCase.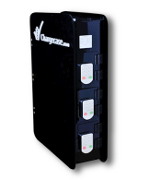 Arif Yilmaz and Ersin Cumsit from Zaandam—the ingenuity of its townspeople already impressed Tsar Peter The Great of Russia in the 1700s—are aiming for traditional financing through banks, and will sell a closet with three safes and connectors for all current mobile phones for "a couple of hundred euro". While the Plugbook is aimed at consumers, the ChargeCase seems to be a product for businesses.
Yilmaz explains: "I have worked in restaurants for years when I was a student. Customers asked every day if we had chargers for their phones, but we didn't have them. I suggested that my boss would get some, but he didn't know which type to get because there are many different phones and at that time every phone had its own unique charger."
"We experimented with speed charging, but that turned out to be very bad for the phones. The ChargeCase does not charge the phone completely, but will let you get by for a couple of hours."
Production of the ChargeCase in Turkey has commenced, albeit slowly ("it is a very bureaucratic country"), and the first shipment should arrive this week by truck.
If those inventions aren't enough to get you through the day, check out the multiple bun slicer by YouTube user Idea Ed. The Internet is making fun of him and his inventions, calling them Dutch chindōgu, but I say that it's better to have invented and built, than to have perfected and never built at all.
(Illustrations: Dave Hakkens and ChargeCase respectively. Video: Idea Ed.)