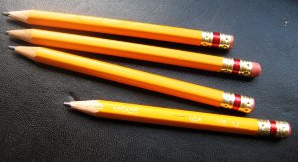 Dutch spelling is often a headache for many people from foreigners to children because it officially changes a lot. A series aimed at children called 'Snap je?' ('Get it?') deals with the dreaded conjugation of verbs where after the root of the verb there's a 'd' or 't' added to it, something that is tough to get right.
Dutch verbs with a stem ending in 'd' add a 't' for the second and third person singular, but it does not change the pronunciation because 'd' at the end of a word is pronounced like a 't', while 'dt' is pronounced as 't', according to a quick explanation from Hear Dutch Here. In other words we often can't hear the difference between the 'd' and 't' at the end of any word because 'd' is voiced and 't' is voiceless and it gets worse when you have 'dt' together. Getting any of this wrong is commonly referred to as a 'd-t mistake' in Dutch. It also makes a difference in tense in some words, so it is a big deal to get it right.
For anyone who knows French, when we get stuck with how to write the ending of a verb in the right tense we use the verb 'vendre' ('to sell') as a default and then conjugate our chosen verb accordingly. The Dutch in this video suggest the exact same with the verb 'lopen' ('to walk'). And then there's the fact that the band from Nijmegen De Staat wrote the music behind these fun grammar lessons, so give it a whirl.
(Link: www.ed.nl)