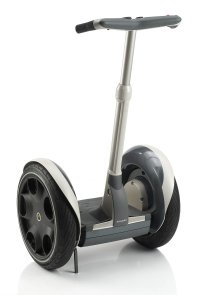 "All the other countries around us are using Segways, why can we?" Because we aren't forerunners when it comes to innovation, we're the 'wait and see' type. And all the other countries around can buy Segways, but not necessarily use them at will. Germany, Spain, Belgium, Austria and the UK sell Segways, but this doesn't mean they are legal there or even will be.
However, if – and that's a big if – you can believe what Wikipedia says about bans in other countries, the Netherlands is far from being alone. Australia, Sweden, Canada, and many US states have problems and proper arguments against using Segways.
Today the Dutch government will be debating trying to impose a licence for Segways like on other motorised vehicles, a process that could take another 1.5 years and possibly see Segways legally on the road/bike paths by 2010. As for 'countries around us', Denmark has classified the Segway as a moped and Germany is still conducting local pilot projects, but has not made it legal yet.
However, Segway Nederland says this is all a huge delaying tactic (no kidding), which is not only hurting their business and frustrating users, but defeats the purpose of 'going green', a major plus point of the Segway. And what's really annoying to Dutch Segway fans apparently is that EU rules just say let local government regulate it, we're OK with that.
We'll have to wait and see as well then.
(Link: emerce.nl)