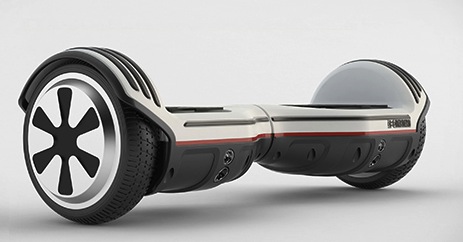 This summer Dutch company Oxboard claimed that its self-balancing device, the Oxboard, wasn't going to be affected by all the speed and permit issues that the Segway had to endure. In fact, it's worse: the Ministry of Infrastructure and the Environment has kaboshed Oxboard's plans to be used as a form of transportation, saying 'it's just a toy'.
The Oxboard is also not allowed on the sidewalk, not that most Dutch cities have wide enough sidewalks, and can only be used on people's own property, which is impractical. To be able to be recognised as a 'special scooter', the Oxboard needs 'a proper steering system and braking system', and according to the Ministry it has neither. Then again, Dutch law isn't completely clear about what constitutes steering and braking, as the words used are 'properly functioning steering system or operating system' and 'properly functioning braking system', both of which the Oxboard has.
Being able to steer the Oxboard with your feet should count for something, however, if you search for Oxboard videos on the Internet you'll get a lot of kids playing around with one as it if were a toy. To be continued.
UPADTE: Here are the specs on the Oxboard and yes, it has a motor.
(Links: tweakers.net, blog.iusmentis.com, Photo: Oxboard)