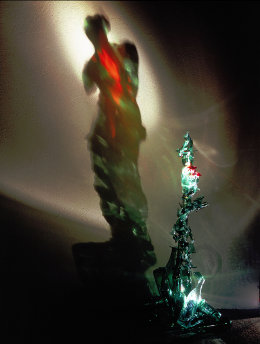 Diet Wiegman (b. 1944) is an artist from Schiedam who creates sculptures that acquire an extra layer of meaning when light is cast upon them.
In English: his seemingly shapeless sculptures cast shadows that look Michelangelo's David, Michael Jackson or the Venus de Milo.
Using garbage, pieces of glass and other rubble, he creates a sculpture that, with the help of a light source, projects a beautiful image onto a wall.

You can stare at the photos for a very long time (trust us, we have) and it still won't make sense that a carefully arranged pile of recycled items can produce Michelangelo's David. Or that a pile of broken glass and a few other items can somehow produce a beautiful image of a sunset.
(Photo: Diet Wiegman's Tumblr, where you can find many more examples of his art)