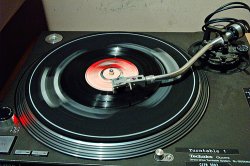 British DJ Carl Cox is known as the three deck wizard because he can handle three turntables using his two arms. Dutch DJ Sebastian Hoff aka DJ Promo will go one step further, albeit because he has to. This upcoming Saturday during his 'Q Dance Presents Promo: Shadowbox' in the Heineken Music Hall in Amsterdam, he will manage two turntables with one arm in a sling. Hoff broke his arm climbing over a fence to go fishing illegally and said that he doesn't want to disappoint his fans.
Besides that people will wonder why the man's arm is in a sling, I don't see this as news or even as impressive. I can do you one better: Wicked Jazz Sounds' regular DJ Missing Links only has one arm. Even his DJ name gives away which arm is missing. I saw him once during a Bossaboogie event in Amsterdam and he was great. I thought it was about the music!
NOTE: DJ Promo will be spinning hardcore (not that jumpstyle stuff) in front of 5,000 people, so in that case, respect and good luck!
(Link: dag.nl, Photo of Turntable by doviende, some rights reserved)