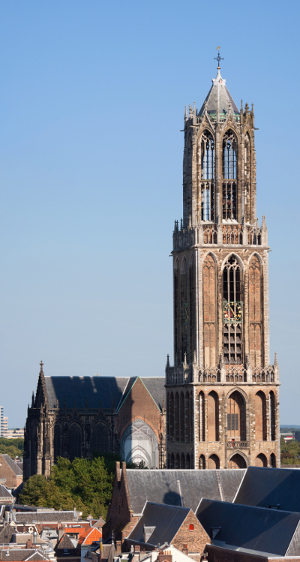 A few days ago, some 850 tall people in Utrecht broke the world record for the most tall people in one place, a record previously set by Australia, with 136 tall people. The Guinness Book of Records still needs to approve the Dutch attempt – they had three observers going around measuring people's height.
Tall is meant to be about 1,80 metres for women and 1,90 metres for men. Knowing that the Dutch are the tallest people in the world, I guess it was just a case of getting them a lot of them together in one place. People came from all over Europe and even the United States and Canada to participate.
The record attempt was organised by the Klub Lange Mensen (the Long People Club) who have 3,500 members, and who recently made sure the minimum height of entrances to building in the Netherlands was increased. The club also works with Dutch Railways to make sure tall peole can sit comfortably in their trains.
(Link: nos.nl, Photo of Dom Tower, Utrecht by Massimo Catarinella, some rights reserved)