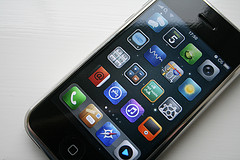 The Netherlands has a lot of water near roads, and cars regularly fall into the water, something that is a fact of life.
In Barendrecht three weeks ago Raymond Heijboer jumped into the water to save a woman from drowning in a sinking car, which he did, and all was well.
However, being the hero that he was, he jumped in the water with his 'insured' iPhone, which got ruined and the insurance company didn't want to give him a new phone because he "willingly" jumped into the water.
With what I'm sure was a 'screw this' feeling he got from the insurer, his luck turned and a radio show called him up early one morning at home and decided to give him a brand new water-resistant iPhone 7 live on the air. Of course it was a stunt, but it was a good move.
Having heard about the radio folks giving Heijboer a free phone, the insurer called Heijboer up and tried to offer him something as well. The insurer offered to pay Heijboer "for the value of his iPhone on the day of the incident", which didn't exactly make the hero very happy, especially after receiving a new and better phone from total strangers. In a letter, the insurer tried to make it sound like they cared, but offering a new deal after the radio stunt makes them look a bit pathetic.
In fact, it would have almost been better for the insurer not to change their stance instead of doing pseudo damage control after being nailed on Dutch radio. And giving the guy a free phone in the first place would have done wonders for their reputation, but apparently they were too busy counting their money and having no heart to care.
(Link: www.waarmaarraar.nl, Photo by William Hook, some rights reserved)