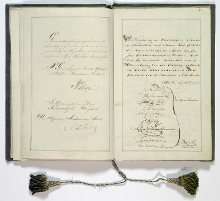 Article 13 of the Dutch constitution declares a secrecy of correspondence, meaning the government and others are not allowed to snoop on your mail.
However, there is an unfortunate loophole: the law specifically talks about paper mail. E-mail was never included and therefore exists in a legal limbo.
According to Internet lawyer Arnoud Engelfriet, the council of ministers of the Netherlands has now proposed a change in the constitution that will not actually name e-mail, but which will make the phrasing of Article 13 more generic. A change in the constitution requires two consecutive parliaments to vote for that change, the idea being that the change can be made an issue in the elections.
Not that it matters much, as the Dutch constitution, which is now 200 years old, is more of a guideline than law. Judges are not allowed to ignore laws based on their constitutionality. The constitution may be said to have a normative function, for example, it could show courts how to interpret a vague law, but a 2009 study by the national government claims that this normative function is eroding (PDF). Instead a societal function is emerging, as the constitution aims to hold up a mirror to the citizens of the kingdom and to show us what our shared values are.
See also: an English translation of Article 13.
(Photo of the constitution of 1814 by Grondwetfestival.nl, used with permission)