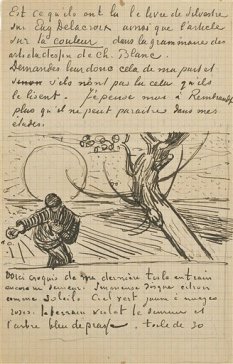 English translations of Vincent van Gogh's letters to his brother Theo have been released in a 6 volume boxed set by the Van Gogh Museum in a 15-year-long cooperation with the Huygens Instituut. The original letters in French and Dutch have also been reproduced.
The entire set contains all the pictures referenced in the letters, that is, all 4,300 of them, The Guardian reports.
If you don't feel like shelling out the 325 UKP that the set is undoubtedly worth, you can also read the letters and their translations at vangoghletters.org. The Huygens Instituut is part of the Dutch academy for sciences.
Story via Eamelje.net (Dutch), who in a totally unrelated story also points out that another Dutch giant of the 19th century, writer Multatuli, published his masterpiece Max Havelaar 150 years ago last Tuesday. The Havelaar has been in translation for a long time, and a public domain English version can be found at Google Books.
If you do not like PDF or EPUB, you might be able to extract the HTML version from the EPUB file (which is just a ZIP archive under a different name).
Tags: copyright, Eduard Douwes Dekker, Max Havelaar, Multatuli, public domain, Vincent van Gogh