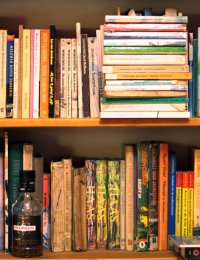 From the Strategic Plan 2010-2013 of the Dutch National Library:
Strategic priority 1: As a national library, the KB wishes to offer everyone everywhere digital access to everything published in and about the Netherlands. …

Main aims …

* We digitize all Dutch books, newspapers and periodicals from 1470. …
* We make agreements about copyright in order to guarantee free access to our collections. …

The KB in 2013: …

* We offer a service for digitization on demand (digitisation of texts from the paper collection on request) in order to meet the wishes of individual clients. …
* We keep a digitisation register that prevents possible overlap of digitization activities by other institutions. …
The Koninklijke Bibliotheek (Royal Library) will not only digitize printed works, but will also archive digital works such as web pages. According to Trouw, the first 10% of 600 million books pages to be digitized should be available in 2013.
Tags: books, copyright, libraries, public domain