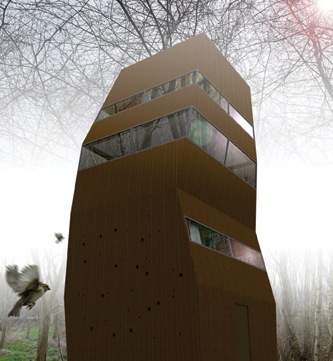 Friday, March 28, an interesting exhibition was opened at the Casla in Almere, Flevoland. It features the winning projects of the third edition of the 'Eenvoud' ('Simplicity') competition for an experimental neighbourhood in Almere. The previous editions, 'De Fantasie' ('Fantasy') and 'De Realiteit' ('Reality') were kept in the 1980s and their results are still worth seeing.
The goal of the Eenvoud competition which started in 2006 was to design a freestanding and simple low-cost house, expressing living desires and ideas. The winners were given the opportunity to build their design on a beautiful open spot in the woodlands of Noorderplassen-West. The houses have to have a permanent character, with a minimum of building regulations.
That last bit is quite ironic, considering the plethora of building regulations imposed throughout the country and the fact that Almere, a city built moslty on reclaimed land, is literally sinking. The photo shows the Ornithologist's house, birds and all.
(Link: dysturb.net, Photo 'Het Huis van de Vogelaar' by Anouk Vogel and Johan Selbing)
Tags: Almere, competition, eenvoud