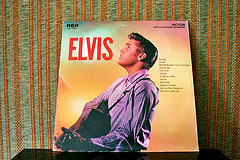 Singer Bouke Scholten from Emmen, by no means an Elvis impersonator, was hand picked to sing at Elvis Presley's memorial marking the 35th anniversary of the singer's death last Thursday, August 16.
Although the Dutch media focused on having a Dutchman sing at the memorial, a rare privilege, his performance was overshadowed by ex-wife Priscilla and daughter Lisa Marie making a surprise appearance together for the first time at a memorial since they started holding them in 1980.
The unknown Scholten had two songs to convince some 800 fans from around the world, and he succeeded in his own way, with his second number, Suspicious Minds.
(Link: www.waarmaarraar.nl, www.cbc.ca, Photo of Elvis album cover by Jeremy Chan, some rights reserved)
Tags: Bouke Scholten, Elvis Presley, Emmen