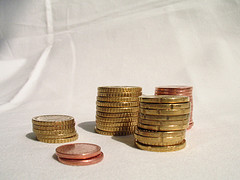 You'd think a mobile euthanasia unit or a pedophile political party would be taboo in the Netherlands, but one of the biggest taboos I know of is about Dutch women not being able to earn enough money to pay their way through life. The irony is, according to a recent report by Delta Lloyd Group Foundation, 70% do believe it is important to be able to take care of themselves, but in actual fact, they don't or don't want to. (Some 75% of Dutch women work part-time and 40% of the population still believes that women with children should not work full-time.)
I've heard all kinds of arguments and personal stories from Dutch men and women in all kinds of situations (kids, no kids, divorce) that have made me understand why some women 'cannot' work (they lose money!) still today in 2012, and the government can be blamed for a lot of it: a too high standard of living as compared to other EU countries relies on the 'informal' network (moms, grandparents babysitting, neighbours caring for elderly), much like big companies used to abuse the environment and let governments pay to clean it up.
But not 'wanting' to work or work more in a recession — we are officially in one today — is making someone else (husband, partner, society) pay for you, when you should be helping yourself out, if not your family. It makes men and women continue to think that more than half of Dutch women are not equal to men. The entire Western world works, has families, raises children and runs businesses, so what's the hold up?
(Link: www.telegraaf.nl)
Tags: divorce, emancipation, equality, euthanasia, labour, pedophile, women