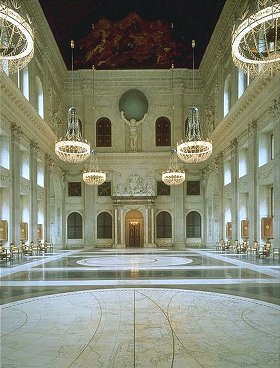 As of today, the Royal Palace in Amsterdam will be open to the public again. The former 17th century city hall had been closed for renovations for three years.
Although the general public can visit the building—it used to draw 100,000 visitors a year—it is also still in use as one of the Queen's palaces. Although she doesn't live there, she does use the palace for formal receptions. Telegraaf reports (Dutch) that several suites for guests have been added. The renovators have tried to restore the palace to the Empire style—originally introduced by King Louis Bonaparte (the brother of)—meaning lots of light colours and gilded furniture.
Several modern conveniences have also been added, such as lifts, ground floor toilets, and air conditioning. The total cost of the renovation ran up to 80 million euro. The Rijksgebouwendienst (state building service) is now preparing for a controversial clean-up of the outside of the building—something that hasn't happened since the palace was built 350 years ago, according to Parool (Dutch).
(Photo: Bureau Monumenten & Archeologie.)