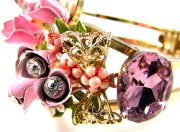 Noa Wanders, a 12-year-old boy from Julianadorp, North Holland, was magnet fishing and made a great find that made an older woman's day: valuables from her deceased parents.
The boy found a rusty box containing two engraved gold wedding rings along with a photo and a name, H. van der Wal. The boy looked up a relative, Selma van der Wal, 63, from Breezand, North Holland and asked if she knew a H. van der Wal. "He's my father!" she answered. The boy also asked what her parents' wedding date was, which could be found on the rings. Selma asked her sister and gave the right date to the boy who eventually returned the rings and photo to her.
Back in 1973 when Van der Wal was about 17 years old and no longer living at home, a intruder broke into her family's home and stole the box containing the rings and some documents. Selma's mother died very young and it was such a surprise to have something that belongs to her after all these years. Van der Wal thanked the Wenders family profusely and rewarded the boy well according to Facebook.
(Link: nhnieuws.nl/, Photo of unrelated costume jewellery by GlitzUK, some rights reserved)