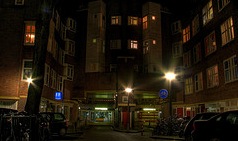 The Amsterdam council and Dutch electronics giant Philips will start a test exercise this summer, using a range of Philips LED street lighting called 'UrbanLine'. The innovation is aimed at stimulating the more economic use of energy. Amsterdam is therefore the first big city in the world to install the new LED street lighting. The council will determine whether it will proceed further with the technology on the basis of the results of the exercise, with specific reference to the issues of sustainability, energy savings and lighting requirements. The LED street lamps along the bicycle path by the Amsterdam city hall/music theatre will be switched on for the first time on 21 July.

Replacing the existing compact fluorescent lamp (PLL-) by the Amsterdam city hall with the Philips UrbanLine LED innovation could lead to energy savings of as much as 51%. The Amsterdam city council's environmental policy commits the city to the highest energy consumption reductions possible, and if the exercise proves successful, it intends to extend the use of the economical street lighting.

Working on its own account and with partners, the Amsterdam council intends to develop innovations for economical energy consumption in the city in a wide range of areas. For example, Councillor Herrema and a number of Amsterdam companies signed a declaration of intent on 1 April 2008 regarding an approach to sustainable mobility within the city, and established a platform for sustainable mobility. The aim is to support and develop projects that stimulate sustainable mobility.
(Link: iamsterdam.com)