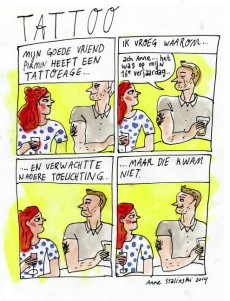 The name Daily Stalinksi promises daily updates of Anne Stalinski's comics (as does the subtitle), but I think it would be better to read this as "reflections on the daily life of …" because the updates currently only appear every three or four days.
Anne Stalinski won the Comik Web Award for young, web-based talent earlier this year. Stalinski's humour is a little cliché at times (A, in a dramatic voice: "Why haven't I been invited?" B: "Did you want to go?" A: "No, of course not!"), but always good for a smile, which is all you can ask from a free web comic.
Shown here: "My good friend Pirmin has a tattoo. I asked him why. 'Oh Anne… It happened on my 16th birthday…' I expected a more elaborate explanation. It never came."
Anne and her equally creative sister Eva hail from Haren in Groningen, a town famous for its botanical garden and its riots, and publish a fanzine together called Zuster.
(Illustration: Daily Stalinski, link: Holly Moors)