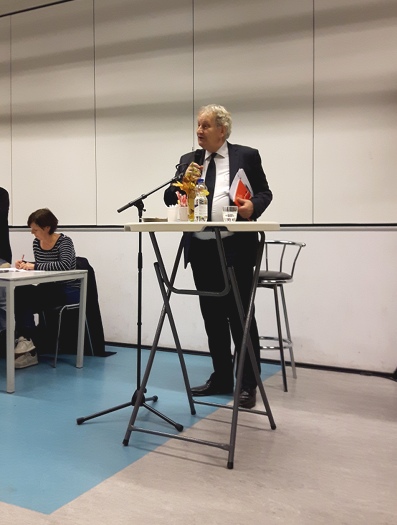 Yesterday, Femke van der Laan, widow of deceased Amsterdam mayor Eberhard van der Laan, was present at an unveiling of a wall of Amsterdam's new IJ river ferry number 63, showing that the ferry was renamed after Eberhard van der Laan. This is the first time that Amsterdam's transport company GVB has named any kind of transport after a person.
"Eberhard van der Laan was a mayor who poured his heart and soul into the city, a leader that built bridges and looked for connections between Amsterdam residents." Since the picture of him about was shot at a meet and greet he did in my neighbourhood addressing people's problems, I tend to agree with the image people have of him. Although different, much of the same has also been said of former Amsterdam mayor Job Cohen who is still living. Van der Laan died of lung cancer in 2017.
As well, the new ferry is one of four bigger, quieter and cleaner ferries that go across the IJ river and is part of the road infrastructure, which means it is free of charge. The new ferries are 33,60 metres long and 9 meters wide, able to transport 310 people. Although not emissions-free, the GVB says it will equip its fleet with fully electric motors when the time comes.
(Link: gvb.nl)