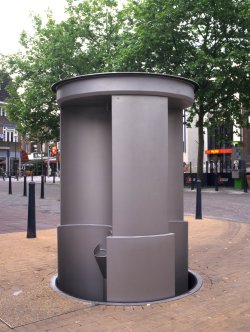 Some 23,000 litres of urine were collected at three locations during King's Day in Amsterdam this year in order to make phosphate fertiliser. The urinals were placed at the Nassau Festival, Kingsland and in Vondelpark, and the old 1928 Olympic Stadium collected some urine as well. The urine was then brought to a phosphate factory in Amsterdam-West.
By collecting urine in urinals where no additional water is used, the urine stays 'pure'. The phosphate is needed to produce fertiliser, which is apparently becoming increasingly more difficult to acquire from natural sources, so much so that urine may one day be the only solution.
And so the urine produced after – I'm just guessing here! – the drinking of quite a bit of beer by men is being turned into manure. Phosphate in Amsterdam has been collected from sewage since 2013, enough to fertilise some 10,000 football pitches.