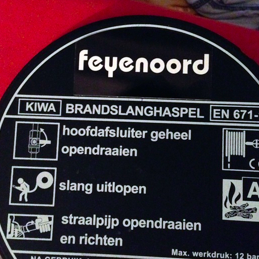 Are you a serious Feyernoord football fan from Rotterdam and can't stand another day of staring at all those Ajax brand fire extinguishers hanging all over the place, taunting you and reminding you of the rival Amsterdam football club? Two Rotterdam cousins have the solution for you: Feyernoord stickers.
Yes, the guys at Firenoord have designed a Feyernoord sticker that looks just like the Ajax one so you can stick it over that reminder of the other football club at 3 euro a pop. They are currently sold out, but they'll surely be more for all the people that just cannot live with those distasteful Ajax fire extinguishers.
Just like the website says, 'no more Ajax in Rotterdam'.
(Link: www.rijnmond.nl, Screenshot: www.firenoord.nl)