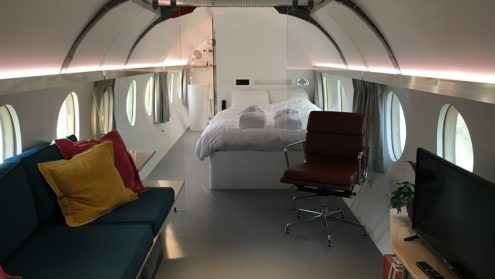 In Hoogerheide, North Brabant adventurous folks can stay over at a Bed and Breakfast in an old Fokker 27 aeroplane, the most numerous post-war aircraft to have been manufactured in the Netherlands and one of the most successful European airliners of its time.
The plane has a big sofa, small kitchen and even a sauna. Hosts Gerhard and Esther Slootweg wanted to provide optimal comfort with a nod to the 1960s, although the planes are from the late 1950s. The accommodations aren't far from the Fokker factory and the Woensdrecht military air base, and get a lot of 'flyers' as guests.
The Fokker Bed & Breakfast was on a Dutch television channel that caters to an older audience, and is getting all kinds of bookings since.
(Link and photo: omroepbrabant.nl)
Tags: bed and breakfast, Fokker