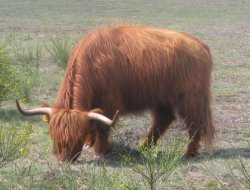 Photo: Highland cow in Hilversum, by Gerard M., distributed under the GNU Free Documentation License, version 1.2.
Last Saturday, a Highland cow was shot (Dutch) near Den Velde in the province of Overijssel for causing dangerous situations on the road. The cow had escaped three weeks before from near Reeze and had reportedly caused a lot of trouble in the neighbourhood already. Highland cows are often used in the Netherlands for grazing nature reserves. They are hardy beasts that require little supervision, and eat more than just grass. The Highlander was caught when it tried to make a run for Germany.
This is not the first time that the police treat nature like a problem. Last Wednesday, our modern day knights who say "ni" shot a cow (Dutch) that had escape with its calf. The orphaned calf is still on the run. And in the summer of 2007, a fox "had to be" shot for accepting food from photographers.
Tags: cows, foxes, Overijssel, police