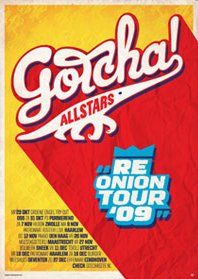 Funk band Gotcha! was doing well in the early 1990s, and then suddenly dropped from view. Turns out they broke up due to unspecified differences of opinions.
I went to one of their concerts in 1992, and really enjoyed it, so it is good to hear that they patched up those differences and got back together again, and are due to embark on a tour of ten concerts. Beef founders Pieter Both and Koen Lommerse even took a sabbatical to be able to play in Gotcha! again.
Check the band's website for all the tracks of their second, 1993 album Gotcha! Gotcha!
(Link: LiveXS. Source illustration: Gotcha!)