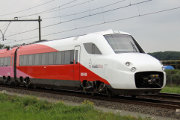 A Belgian rail safety body has suspended the Dutch high-speed train Fyra on its network, Dutchnews reports.
According to De Gelderlander, pieces of the train had been found on the track, which may have come loose because of chunks of ice on the track. The suspension won't be lifted until Monday evening, according to Belgian paper Knack.
Dutch Rail introduced nine new Fyra trains on 9 December last year and cancelled its regular, cheaper Amsterdam-Brussels service on the same date. A Fyra ticket was twice as expensive as a ticket for the regular train.
State-owned Dutch Rail has a de facto monopoly on train services in the profitable areas of the Netherlands. Members of European Parliament get a 50% discount when they travel by Fyra, Dutchnews reported last year.
The new Fyra trains (model V250) are made by Italian company AnsaldoBreda, which wrote on 19 December: "The technical problems which occurred in the early days, – after careful technical analysis carried out by AB staff as well as by experts of the company that manage the network – were not imputable to the train, but to issues related to the infrastructure system." Dutch Rail is putting the blame for the current problems squarely on AnsaldoBreda, according to treinreiziger.nl. Dutch Rail CEO Bert Meerstadt told the site: "The early problems combined with the safety risk that ice blocks are causing show that the V250 does not live up to what we agreed with its manufacturer."
See also: Dutch Rail abused privacy 'anonymous' transport card users, and more
(Photo by Arnold de Vries, some rights reserved)