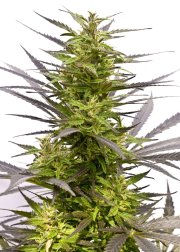 With an emphasis on most probably, archaeologists have found bits of what looks like Cannabis sativa in a grave from the stone age some 4200 years ago near Hattemerbroek where digging is going on to build the Hanseatic railway line. It would also be the first time that cannabis has been found in a grave in the Netherlands. They also found other medicinal plants, jewels, tools and drinking cups.
This part of the country has apparently never been really dug up, and so who knows what they'll find next, as the railway will only be ready in December 2012. The Hanseatic line (Hanzelijn in Dutch) will connect the Randstad conurbation with the Northwest part of the country, namely the cities of Leeuwarden and Groningen (see map).
Currently, the only way to get up there by train is through Amersfoort (cut off on the map, the white square below Zwolle on the blue line more to the right) and then Zwolle, but it involves switching trains at Zwolle because they are no direct trains (intercity trains) like in the rest of the country. It takes a good three hours to get there and people from Leeuwarden and Groningen are a bit fed up of having to switch trains when then commute.
The good news is, wait, it's bad news. The Hanseatic line will connect Lelystad to Zwolle avoiding Amersfoort , but it will unfortunately take the same amount of time for commuters. Train infrastructure company ProRail has said that commuters will still have to switch at Zwolle without explaining why that is, and so there's a petition doing the rounds against it. I can imagine they feel like second-class citizens, knowing that if you live in Maastricht or Heerlen you can usually go to Amsterdam Central Station in one go.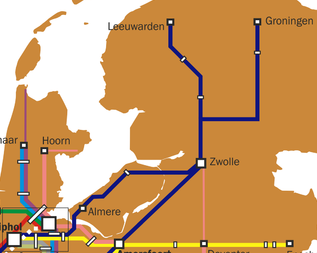 (Links: www.waarmaarraar.nl, www.prorailpersberichten.nl, Photos Photo by Eric Caballero, some rights reserved, Photo of Intercitynet NL 2013 by Classical geographer, some rights reserved)