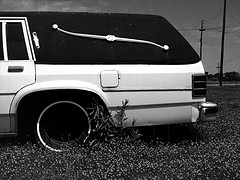 The Dutch city of Baarn, Utrecht has bumped off Hell, Michigan (what's in a name) as record holder of the longest hearse parade on Thursday, 30 August 2012. The American Just Hearse'N Around group had 51 hearses on 17 September 2011, while the Dutch managed to rally 107 hearses and easily set a Guinness World Record.
Nuvema, the group who held the attempt yesterday, was enthusiastic about the turnout and also the media attention paid to hearses, which is good for business. Check out the pictures of all the hearses that participated).
(Link: perssupport.nl, Photo of Hearse by Jason L. Parks, some rights reserved).