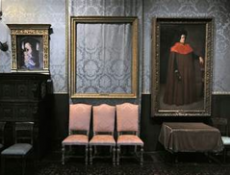 A video of one of the biggest art heists of all times, which took place in 1990 Boston's Isabella Stewart Gardner Museum, has been released on YouTube (bizarrely marked as 'unlisted') in order to help the FBI find any new leads.
On 18 March 1990 two men dressed as Boston police gained entrance to the museum by telling a security guard they were responding to a disturbance. The guard should not have let them in, got handcuffed, as did his two other colleagues.
The 13 works stolen from the Isabella Stewart Gardner Museum, included paintings by Rembrandt and Vermeer, which to this day have not been recovered. Now that the main suspects are deceased, the FBI wants to find these cultural masterpieces. The museum is offering a cool 5 million USD to information leading to the recovery of the stolen artwork as long as they are in good condition. The total amount of artwork stolen is estimated at about 500 million USD.
Look at the surveillance footage linked to the heist:

(Links: www.crimesite.nl, www.thenewstribune.com, Photo: www.thenewstribune.com)