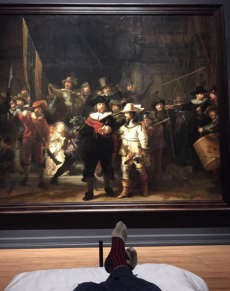 Fifty-one-year-old Dutchman Marko Bak from Nieuw-Lekkerland, South Holland, who has Rembrandt's The Night Watch tattooed on his back, and his tattoo artist Richard van Meerkerk both finally saw the artwork at the Rijksmuseum in Amsterdam for the very first time.
Bak said that he wasn't a museum kind of guy, and that the tattoo was done as a bit of a joke, but then grew into a real art project. When Bak met Van Meerkerk, he told him "If ever you have nothing to do you, you can tattoo The Night Wacht on my back." And that's what happened.
The tattoo is not an exact copy, as some of the faces were replaced by ones from Bak's friends and family. I can imagine that it's not every day that someone shows up with The Night Wacht (aka Militia Company of District II under the Command of Captain Frans Banninck Cocq) on their back, making this quirky news.
And here's the Dutch item on video:
(Link: nos.nl, Photo: Stefan Kasper's instagram)