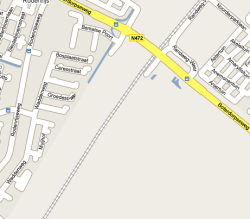 Very few people understand why a resourceful country like the Netherlands is so bad with large infrastructure projects like the high-speed train, never mind the eyesore that is Amsterdam's North-South metro line started in 2003 and maybe finished by 2017. I'm embarrassed that we seem so backwards at times: "The Netherlands is one of the last countries in north-western and southern Europe where trains do not run at speeds above 200 km/h". You'd think, small country, less track, vroom vroom, but nope, not yet. "The first full speed Thalys on Sunday was halted again at the Belgian border and arrived in Antwerp 30 minutes late." It's like driving a sports car at 120 km when you could be zooming down the German autobahn at 240 km.
The high-speed train is going to cost more, it will try and run at full speed sometime in the summer next year (more than 2 years off schedule), it's not lucrative (people take other forms of transportation) and… drum roll please… it's still too loud when it goes along the area of Lansingerland at my friends' house. The sound constantly changes pitch and is not regular enough to be ignored like the other trains.
All I want to be able to do is go to Paris from Amsterdam in 3 hours because I know it can be done. I want to zoom at 300 km/h, which is incredibly cool, and not feel guilty zooming by my friends' house.
(Link: nrc.nl)