Surprise, the high-speed train is terribly noisy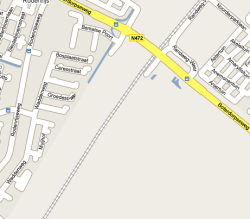 This story has all the trappings of an 'I told you so', but the testing of the high-speed train has "turned the town of Berkel en Rodenrijs [South Holland] upside down" and "makes a huge racket everytime it goes by," according to my good Dutch friends whose newly built house is about 250 metres from the track (see the streets on the left, near the tracks).
When I visit my mates in Berkel en Rodenrijs, I see this clean and quiet new track just waiting to one day get my derrière from Amsterdam to Paris in three hours instead of five, scheduled to start this December. In May this year when I took the French high-speed train (Thalys) from Amsterdam to Paris, the train still has to wait until Brussels-Midi to finally cruise at 300 km/h instead of the standard 90-140 km, in a train that as the Dutch say, 'stops at every big tree'.
And now that my dream train trip draws nearer, the initial testing of the train has received 1,600 complaints from the people living between Amsterdam and Rotterdam, including Berkel en Rodenrijs. The actually start of the Dutch train services is secheduled for September 2011, but if these tests are an indication of what's to come, the Netherlands will have yet another national headache on their hands.
(Links: telegraaf.nl, eenvandaag.nl, image: Google Maps)
4 Comments »