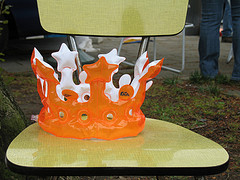 "Harry and his huge, oblivious son run a moving company together. When they help a girl move apartments, their dull, tiny lives are disrupted."
'Gracht' ('Canal') was made for the Utrecht School of Arts in Hilversum as a graduation project by four students. The process took six months, and the four guys not only graduated but were also honoured with a 'staff pick' on Vimeo.
I like the mover's watch and the somewhat trendy yet anachronistic use of the compact cassette with Dutch gabber music.
Gracht from Gracht2013 on Vimeo.
(Link: www.amsterdamadblog.com)