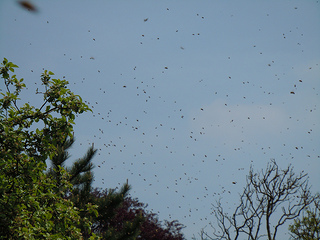 Just as spring began in 2012 we told you about how European bees are disappearing from the urban landscape, although many things are being done to counter this. As an unknowing consumer, I've noticed that the honey I buy has a lot of 'non-EU' honey in it, which means it's probably from North America or the Middle East.
You could imagine that although keeping bees at home to gawk at (I like to try and spot the queen bee) and take their honey sounds really cool (pics), it has a hipster vibe to it. Back in 2011 Philips designed a beehive that you can place indoors, while the bees enter the hive from a sort of flower pot outdoors, so no bees flying around the house.
According to Philips, their urban beehive is a sustainable, environmentally friendly product concept that has direct educational effects. The city benefits from the pollination, while humans benefit from the honey and therapeutic value of observing the bees. As global bee colonies are in decline, this design contributes to the preservation of the species and encourages the return of the urban bee.
This sounds great if you're up to smoking out the bees when you want the honey because you'll need to do so eventually and you'll need to have your own house to make those kinds of holes in your walls.
(Link: www.design.philips.com, Photo of Bee swarm by quisnovus, some rights reserved)