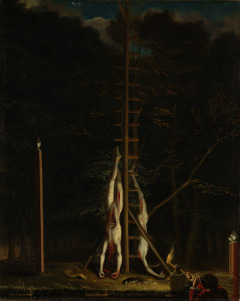 The year was 1672. The 80-year war of independence of the United Provinces against Spain had been hard fought, but had also ushered in a golden age in which trade, science and arts blossomed. Now that progress was halting. The Treaty of Münster in 1648 had seen the recognition of the young Dutch republic as an independent nation, but 24 years later fresh enemies were at the door. England had declared war, followed by France and a bunch of German bishops.
An Anglo-French attack over sea had been thwarted with ease by the mighty Dutch fleet, but the weakened Dutch army could not stop the French from invading over land. The Dutch tried to retreat to the redoubt formed by the Dutch Water Line; a huge lake formed by flooding parts of Utrecht and Brabant. The flooding went slower than expected and it also made the people outside the redoubt feel they were being left to their own devices. People started panicking and started looking for scapegoats.
These scapegoats were found in the brothers Johan and Cornelis de Witt. The former was the grand pensionary of the provinces of Holland and Zeeland, which made him the de facto leader of a federation of provinces that preferred not to have leaders. It also brought him in direct competition with the line of Orange-Nassau which had assumed the stadtholdership and had turned it into a hereditary position. The Oranges were the favourites of many people who saw in the latest heir, William III, a new leader for the new war.
Cornelis had been framed for the crime of conspiracy and had been banished from the country. On 20 August 1672 his brother Johan came to pick him up from prison in The Hague, but outside a mad crowd awaited them. The rabble lynched the brothers, mutilated their bodies and cut parts off. The heart of Johan was cut out of his body and thrown in his face.
The painting shown here was created by Jan de Baen. On the back is written: "These are the corpses of Jan and Cornelis de Witt, painted from life by an important painter, as they were hanging from the gallows at 11 o'clock in the evening. Cornelis is the one without a wig, Jan de Witt has his own hair. This is the only painting painted from life on 20 August 1672 and therefore worth a lot of money."
According to vandaagindegeschiedenis.nl, "some of their body parts were even traded, taken as souvenirs and eaten. The Haags Historisch Museum owns a tongue and a toe of one or both of the brothers. These became the property of supporters of the brothers who kept them as relics."
(Illustration: Jan de Baen / Wikimedia Commons)