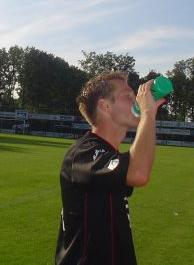 The second Dutch football league may not exactly be known for the defensive capabilities of its teams, but when the oldest Dutch professional football team Sparta Rotterdam (1888) relegated last year they probably did not expect the red carpet either.
Yet in its second game this season Sparta routed Almere FC 12-1, and 25-year-old striker Johan Voskamp scored 8 of those goals. Voskamp had just been bought from Helmond Sport who play in the same league. A video of his goals can perhaps be viewed at Youtube.
The second division is called Eerste Divisie ('first division') because the first division is called Eredivisie ('honorary division').
Henk Schouten scored nine goals for Feijenoord in 1956, in what was then still called the Hoofdklasse. The Eredivisie and Eerste Divisie were introduced a season later. All time top scorer for a single match in the Eredivisie is Afonso Alves (Heerenveen) with 7 goals in a match against Heracles in 2007. The previous record holders for the Eerste Divisie were Jerry Taihuttu (1997) and Ugur Yildirim (2003), with 6 goals each. Both players went on to play in the top tier the next season.
(Photo by Kralinger, some rights reserved)
Tags: football, Johan Voskamp