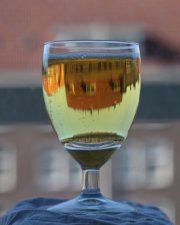 Trying to smuggle alcohol into Saudi Arabia where it is illegal carries serious consequences if we believe the media. Smugglers have tried to disguise 48,000 cans of Heineken as Pepsi cola ones using crafty stickers. We could also flog the makers of Heineken, but that's just a pipe dream.
Just this week an elderly British man living in Saudi Arabia was released from jail after spending one year in a cell for making homemade wine. More than 230,000 people had signed an online petition calling for the British Prime Minister to intervene to stop Mr Andree from facing 350 lashings, a punishment the man would probably not have survived after battling cancer and being asthmatic.
In the Netherlands, a song by Jaap Visser once told us that in fact 'Heineken is a hard drug dealer' and makes a great argument for banning it.
Heineken wrecks everything
Leidseplein, your marriage
Heineken is a hard drug dealer
The hospitals are full
With victims of alcohol
Heineken is a hard drug dealer
Don't let yourself be cheated
Don't let yourself be fooled
Heineken is a hard drug dealer
And if the stadium is violently destroyed
Heineken sits sanctimoniously at home
Counting his money
(Link: www.independent.co.uk)