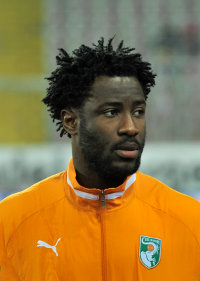 This year Dutch football clubs are getting at least 91 million euro for breaking up contracts with players who are set to move to foreign clubs, Volkskrant reports. That number is likely to become even higher since the 2013 summer transfer window doesn't close until 2 September.
Midfielder Kevin Strootman from PSV (Eindhoven) earned his club the most money. He will move to AS Roma for 20 million euro. Volkskrant points out that the Dutch competition, the Eredivisie, has been drained of attackers. Out of the players that are leaving, five were in the top ten of top scorers last season. PSV had Dries Mertens and Jeremain Lens in that list—the Belgian and Dutchman are going to Napoli and Dinamo Kiev respectively. Ivorian Wilfried Bony of Vitesse (Arnhem) was widely considered too big for the Dutch top competition—his move to English mid-table Swansea seems a bit unambitious.
The budgets of Dutch clubs typically do not extend far enough to retain top players. In the previous season, the 'poorest' English club, Queens Park Rangers, had 35 million British pounds to spend on player wages alone. By contrast, Feyenoord, the Dutch number four in spending, has a budget of 34 million euro for the current season—including but not limited to wages. It will come as no surprise that in Volkskrant's list, England is the top importer in Europe of foreign players, having spent 316 million euro so far. Oddly enough, Spain, a country whose clubs are not exactly poor, beats the Netherlands as an exporter of football players. Its clubs earned 106 million euro at the time of writing.
See also: How to create a football star
(Photo of striker Wilfried Bony by Wikimedia user Ailura, some rights reserved)